Spring 2017 Activities
Students in AMA's first ever primary running club ran in Panajachel's 2017
Corramos Por El Lago.
This was a wonderful opportunity, club students in grades K-6 ran their first ever 5K race.
---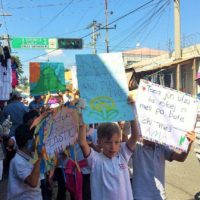 Students in grades K-12 joined LIFE School and PCI (Panajachel Colegio Internacional) in a community March for Science. The march took place the Friday before Earth Day, and gave AMA students the chance to voice their opinions and needs for a cleaner community, through the civil action of marching. Elementary students held signs in English, Spanish, and Kaqchikel, and marched with a loud speaker chanting, "NO TIRE BASURA, DON'T THROW TRASH.